Health & Wellness
I was hospitalized!
페이지 정보

작성자
Supu
댓글
0 Comments
조회
1,004 Views
작성일

23-03-30 16:55
본문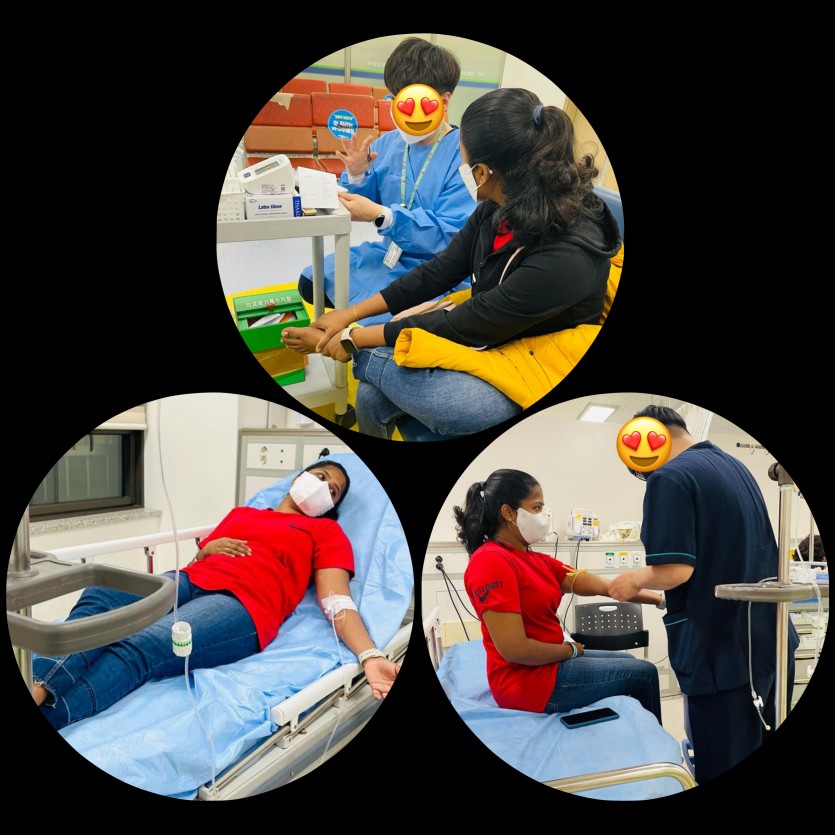 By Supuni Dayasheela
Hello everyone!
Today I am going to share an experience from my hospitalization in Korea. As everyone knows, it is very hard to endure being sick in a foreign country. So it is the same for me. Two weeks ago, I was affected by cellulitis, and it was really hard to get through. I even had trouble walking because of this disease on my leg's big toe. My finger was swollen as well. So I had nothing to do except go to the hospital. As it was an evening, there were no doctors at Hallym University Hospital, so I had to go for my treatments to Kangwon National University Hospital by taxi.
This is the main part of my post because I had very different experiences there than in hospitals in my country, Sri Lanka. In Sri Lanka, we usually go for pre-channeled sessions in private hospitals because public hospitals are very crowded. In public hospitals, we can get our treatments and medicines for free, but they take more time and we have to wait. And also, the doctors there are somewhat ruder than in private hospitals. But here in Korea, I had a different experience of visiting doctors, as they came to visit us where we sit. One doctor came to visit me and check my finger, and he took some information about me as well as my blood pressure and temperature. He noted down my history of diseases and then advised me to wait for the senior doctor's call. It was a very strange thing for me because that was the first time a doctor came to check on me to see where I was and how I was doing. because in Sri Lanka, we usually go to the room where the doctor stays when our reservation number calls.
Here, I had to wait two or more hours before I got the chance to be treated. In my country, we visit our doctors, and they check the relevant things and prescribe the medicines. But this time in Kangwon National University Hospital, they started so many tests for me. They checked my blood and urine, took some x-rays, and also gave me saline. Firstly, I wondered why they took all these tests on me without treating my swollen finger, and I was also so worried. After all these things, one of my friends said that this is the pattern in Korea because they don't want any kind of disease to get spread. I asked why the doctors here come for us where we sit, and she replied that they always respect their patients who come to them for treatments, so they do everything possible for their patients.
After all these things, I got my prescriptions, paid for the hospital, and went to my home. And I must say the medicine in here was very good, and after two weeks I got fully recovered. For no other reason than the fact that it was a special and different event for me, I wanted to share it with you. And I hope none of you become ill!
댓글목록
There are no registered comments.