Language & Culture
2022 Chuncheon coffee city festa
페이지 정보

작성자
Merhawi Hunde
댓글
0 Comments
조회
1,100 Views
작성일

22-09-19 16:31
본문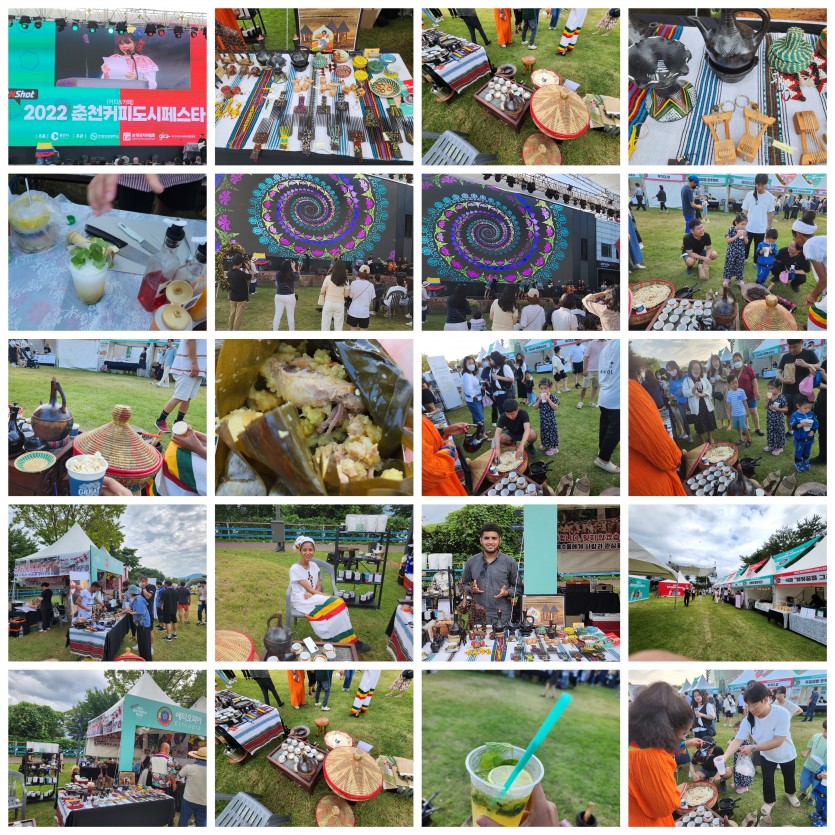 "….Chuncheon Coffee city…''  and Festa
Hello, Everyone!
It's been a year since Chuncheon City started to observe coffee Festa, which is a coffee exhibition encompassing various artistic events, such as music, dance, art, and other performances. Coffee roasters, coffee experts, coffee house owners, coffee lovers, and participants of the event gathered at Animation Museum, compound to experience coffees from different coffee producers nations like Ethiopia, Colombia, Vietnam, Kenya, and Tanzania. 
#ShotNshot is the slogan for the 2022 Chuncheon city coffee Festa, which has a perception of taking pictures and promoting coffee, which took place from September,15 to 18, 2022. It was launched with attendees who came from different parts of Chuncheon and beyond,  including His. Excellency Mr. Dessie Dalkie, Ambassador, Extraordinary, and Plenipotentiary of Ethiopia to the Republic of Korea. The event was organized by Chuncheon city in cooperation with Hallym Technical university, Korea Coffee association and Gangwon information and multimedia corporation. According to some sources, there is a prediction and supposition to make Chuncheon city, known for Coffee as Ganeruing is known for coffee. Of course, Chuncheon is known for its mouth watering Dakgalbi (Chicken barbecue).
The festival saw various wonderful performances, such as Colombian dance, music, and cultural shows. It was also a chance to let Koreans and visiting ex-pats know about the Ethiopian coffee ceremony with free tastes cups of coffee accompanied by direct experience of cultural coffee-making utensils and popcorn serving, since I was hosting in a booth assigned for Ethiopia, I was able to showcase with friends of the same origin, explain cultural items such as cloth and other ancient household utensils, presented at the booth's table, and able to talk to visitors, like from Colombia embassy, Colombian friends and visitors, Turkish, Africans, and others. The participation in the festive allowed me to experience Colombian cultural food like Fiambree, made of chicken, olives, corn, onion, and others. It is tasty and juicy. Overall. such multicultural showcases are good in terms of building up people to people relationship, creating networks of various aim business, or others, and learn each other's culture.
See you in September 16, 2023 at the animation museum, Chuncheon.
Have a fruitful week!
댓글목록
There are no registered comments.