Food & Drink
Kimchi Making
페이지 정보

작성자
Dana Picazo
댓글
0 Comments
조회
2,349 Views
작성일

21-11-28 17:44
본문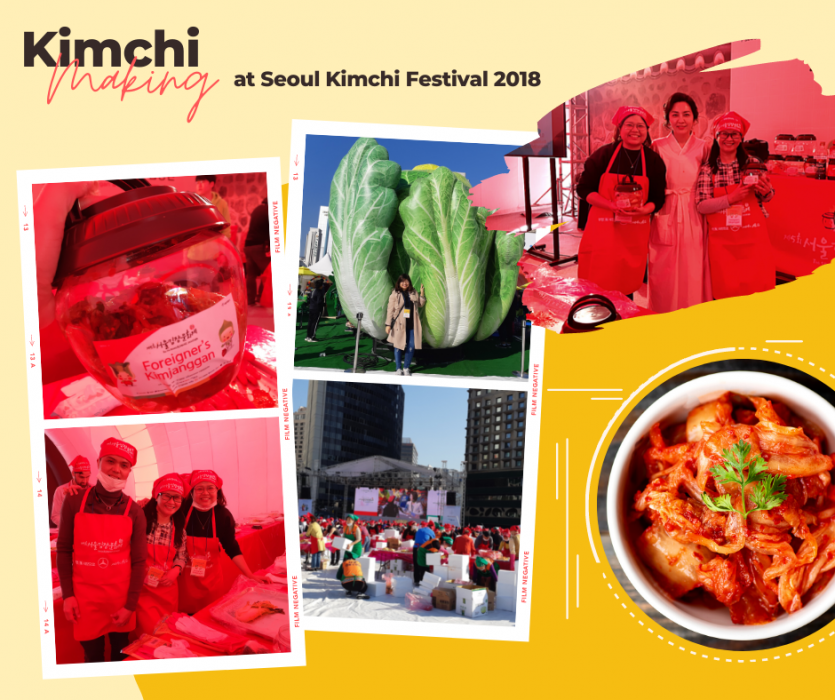 Of course, everyone is already familiar with the Korea's most popular staple food, kimchi. We find kimchi served with almost every meal here in Korea. This is a traditional fermented vegetable side dish, usually cabbage, radish, or cucumber. Kimchi is said to have many health benefits and gives immunity boost. In fact, research even found that ingredients found in kimchi can act as a defense system to help lessen symptoms of Covid-19. 
What I'd like to share now is my experience of attending the Seoul Kimchi Festival back in 2018. It was held during the first weekend of November, and they prepared a lot of activities for everyone, even foreigners. The highlight of the event was a community kimjang or kimchi-making. Kimjang is valuable part of Korean culture wherein families gather to prepare large amounts of kimchi for winter. 
I was really amazed when I witnessed the kimjang because thousands of people participated. It was said that 165 tons of kimchi was prepared during the whole duration of the festival. The kimchi was later distributed to the less fortunate. It was a meaningful way to relive the sharing culture of kimjang. 
Aside from that, the festival also showcased the history of kimchi through an exhibit, contests, and for foreigners, they organized hands-on kimchi-making lectures by professional chefs. This is the program that I was able to participate in, along with my two Filipino friends. It was my first time to ever try making kimchi, so it was a very memorable experience for me. The organizers prepared all the ingredients we needed along with all the other supplies such as apron and bandana and a kimchi container. After the hands-on lecture, we even got to take home the kimchi that we personally prepared! When the situation already allows, I highly recommend for foreigners to try experiences like this. 
Until next time!
Dana
댓글목록
There are no registered comments.