페이지 정보

작성자
Dana Picazo
댓글
0 Comments
조회
3,021 Views
작성일

21-10-31 23:21
본문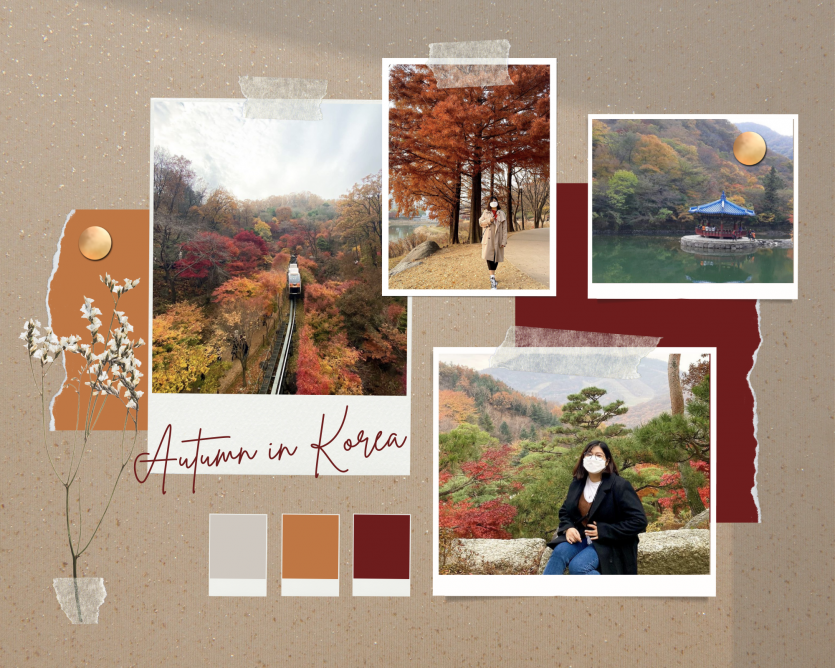 Autumn In Korea
My favorite season in Korea is definitely autumn! Since I come from a tropical country, the Philippines, which only has two seasons, I did not grow us seeing the changing color of leaves from green to yellow, brown, and red. So, every time autumn comes, I find it really fascinating. Plus, the cool weather makes it very pleasant to stroll around.
The peak of autumn foliage usually happens from mid-October to around the first week of November. There are many places around Korea to witness the beautiful fall colors. Here are some of the ones I've been to:
Naejangsan National Park
I went to Naejangsan, which is located in Jeongeup, Jeollabuk-do, back in 2018. This is one of the most breathtaking places to experience autumn because every spot is indeed scenic! As you take your leisurely walk, you can visit the Naejangsan Temple which was said to have been built at least 660 years ago during the Baekje Kingdom.
Hwadam Forest
Last year, I ticked the item, "visit Hwadam Forest" from my autumn bucket list. Hwadam Forest is located in Gwangju-si, Gyeonggi-do and is very accessible from Seoul. It will only take you around an hour to reach Hwadam Forest from Gangnam Station by taking the subway! One of the highlights of Hwadam forest is the monorail within the park, which can take you to the observatory. While in the ride, you will see mountains covered with yellow and red! From the observatory, you can also take the monorail back down or choose to take a stroll while snapping lots of photos. Aside from the Gingko and Maple trees, the botanical garden also has a moss garden, birch forest, and bonsai garden.   
Seoul Olympic Park
They say that this park comes alive during autumn, and I couldn't agree more. Seoul Olympic Park is go-to park for many during weekends, but it is especially appealing during the fall season. One popular place to have your photos taken here is at the pink muhly grass field and the one-tree hill. Recently, a life-size version of the popular "Squid Game" doll is also displayed here!
I'm sure you know of other places where we can see the charming fall colors! Hope you can share this with us too!
Until next time!
Dana
댓글목록
There are no registered comments.