Language & Culture
An unexpected meeting at the Seoul-Africa festival
페이지 정보

작성자
Merhawi
댓글
0 Comments
조회
1,079 Views
작성일

22-10-25 03:18
본문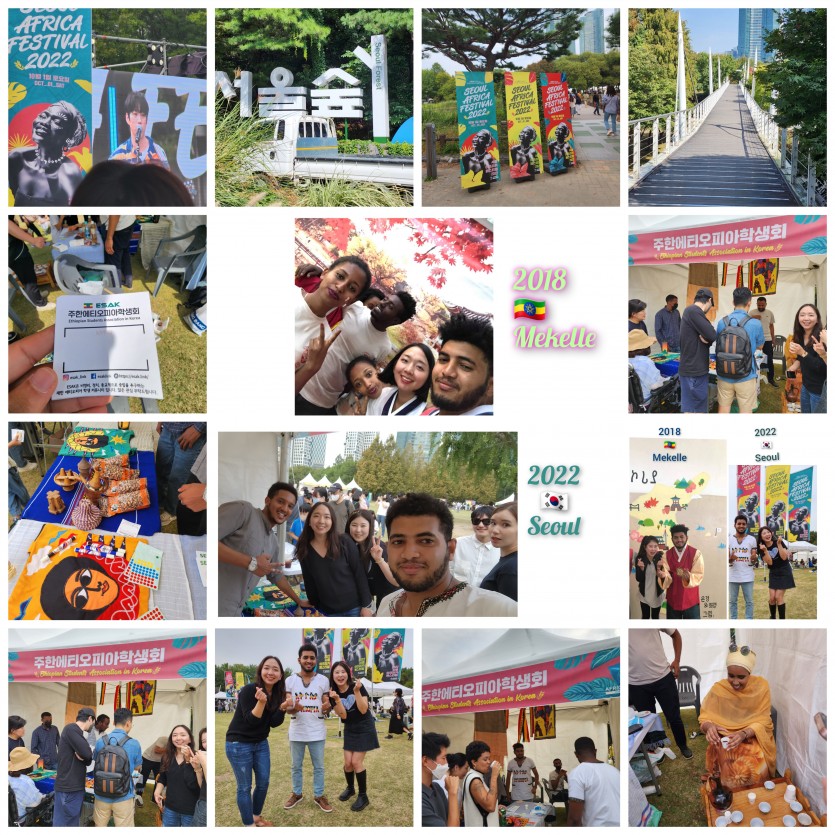 An unexpected meeting at the Seoul-Africa festival
Hello everyone!
Seoul city saw a stage for the Africa-Korea culture exchange three weeks ago, Saturday, October 1, 2022. It was organized by a non-profit entity named African-Insight which advocates culture, arts, and the like. The festival took place in Seoul forest park in Seongdong-gu, where a crowd of people gathered to experience various cultures and interact with each other. Although its name gives a clue about an African and  Korean festival, peoples of various nationalities beyond the two were able to cheer the cultural sorts of Africa.
Beside learning about the event on Instagram, I received an invitation from ESAK (Ethiopian students Association  in Korea) to represent my country along with fellow students at the festival. Even though it is the time we students are busy with school, I made it to join and represent my country. I tried to wear a traditional t-shirt like cloth with Green, yellow and red on the white background color. I brought Ethiopia's different regime's currencies and coins. 
Currencies that were used during the Derg regime, EPRDF & current time currencies. After arriving at Seoul Forest Park, I found fellow students wearing cultural clothes and setting up some final preparations at the designated booth. We were able to showcase artifacts and a coffee ceremony accompanied by letting visitors taste the boiled coffee at the booth.
Surprisingly and incidentally among our visitors were two Korean ladies, who once used to volunteer in Ethiopia, Aksum. Once upon a time, there was a Korean culture day held at Mekelle University, some three hours drive from Aksum. The above-mentioned ladies happened to visit the Korean Culture day festival at Mekelle University, where I was able to volunteer to organize it. They met me and helped organize together and took pictures.
After some four years, the three of us met last week at the Seoul-Africa festival for the second time. We felt surprised, chatted while testing a cup of coffee, and took pictures together again after four years for memory. I inserted the above pictures of both events contrasting the time.
Have a great week!
댓글목록
There are no registered comments.