Social
A Visit to Gangwon Provincial Arboretum.
페이지 정보

작성자
MBAGWU FRANCES …
댓글
0 Comments
조회
3,106 Views
작성일

21-11-07 21:53
본문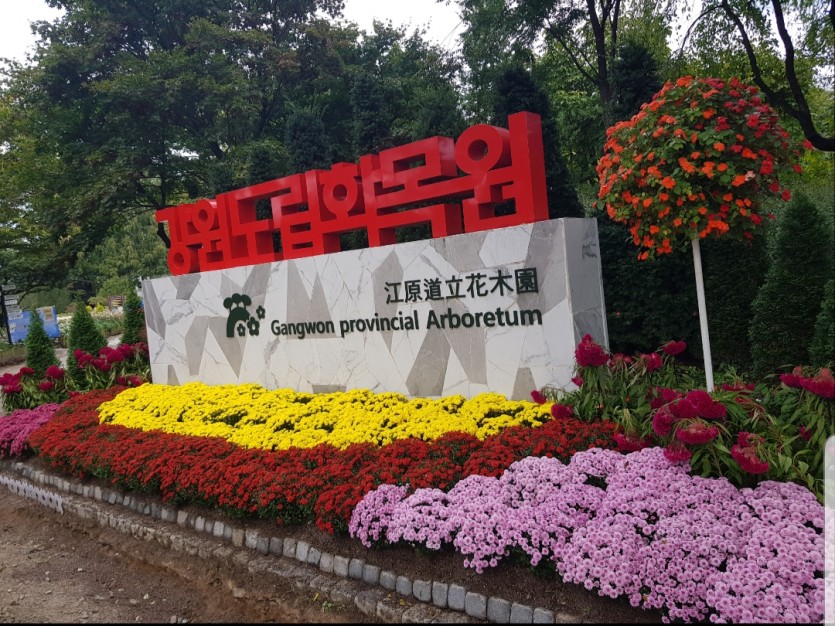 *A Visit to Gangwon Provincial Arboretum.

Last weekend during my leisure time, I decided to visit the Gangwon Provincial Arboretum, I have already heard about this place from my church members who visited the garden recently. The Gangwon Provincial Arboretum has been in existence since 1999. This recreational center was established to learnt about nature. On getting there, I had to paid an entrance fee of about 1,000won at the ticketing booth just after the entrance of the center. Beside the ticketing booth was a map showing different areas, although the place was undergoing some construction which actually limited my movement around. It comprises of 30 themed gardens in all like the four-season which includes Botanical gardens, sub tropical plant garden, succulent plant garden, and topiary garden. At first I visited the store and relaxation spot were I got chilsung cider to drink as I tour and also saw lots of beautiful chrysanthemum flowers because of the season we are in. Moving on I saw lots of flowers, plants and trees around like Acer buergerianum, sunny-place cinquetoil, Maiden saussurea, Pinus densifloral for to mention but a few. So I entered the four seasons Botanical garden, the first place in the garden was the Eco-observation station were I saw lots of plants. There were also lots of plant gardens inside the botanical garden, like the Succulent plant garden which had the Marginatus Back bg., Echinocereus triglochidiatus Engelmann and the rest. Also the sub tropical plant garden were I saw the popular fig tree in the bible called the common fig. Philostachys nigra, common camellia and the Black bamboo. Also I saw the aquatic botanic garden that is combined with a pond, artificial falls and Pavilion. I could not explore more places as there are places undergoing construction but will go back in winter to explore more places in the garden. It was such a Pristine and Romatic environment to visit.

Thank you.
댓글목록
There are no registered comments.