Social
A jaunt to Seongsan "Sunrise Peak" & "Hamdeok Beach"- Jeju Island
페이지 정보

작성자
Merhawi Hunde
댓글
0 Comments
조회
1,623 Views
작성일

22-11-05 02:15
본문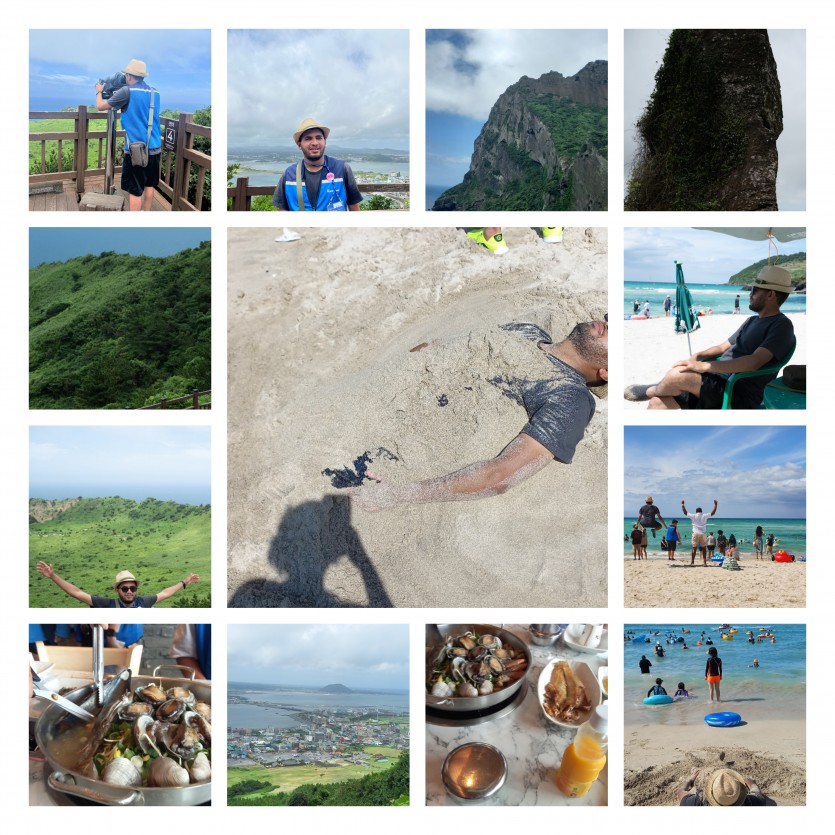 A  jaunt to Seongsan "Sunrise Peak" & "Hamdeok Beach"- Jeju Island
Hello everyone!
Let me share with you about my day spent at Jeju Island.
As part of a schedule of the 2022 UN youth peace camp for Korean war veterans Descendents, we descendent students gathered in Seoul and visited various places in Korea and Jeju was one of the places. We departed for a day trip in the morning from our base lodge, Ramada Plaza Hotel in Jeju to hike to Seongsan Ilchulbong or Seongsan "Sunrise Peak". It is a volcanic eruption forming a mountain-like hilly landscape and is said to resemble a gigantic ancient castle, located in the eastern part of Jeju island.  
We participant students had to perform a mission on different parts of places we visited and various locations of this peak while we climbed up a long series of stairs. It takes an average of 50 minutes to reach the peak. It was a bit tiresome but a funny, and engaging experience. We enjoyed Jeju's most known and delicious tangerine and sea foods after we climbed down and refilled our energy. 
The itinerary after the hike to the Seongsan sunrise peak was a short stay at another spectacular site of Jeju which is Hamdeok Beach. Hamdeok beach is situated just eighteen kilometers away from Jeju airport, it takes an average time of twenty-three minutes. With a nice view of the sea, you can enjoy swimming while there is no high tide. It has emerald blue water, and white sands right near the beach with umbrella sheds where you can have a good time. 
There are restaurants and coffee shops close to the seashore including Starbucks. I would be so happy if I knew how to swim but managed to play with sand, and water along with fellow participants while taking pictures and appreciating the moment. I shared the pictures above which I took during my short trip to the aforementioned amazing spots. Overall, it really was a wonderful jaunt. I recommend you make it on  your bucket list of these recreational spots.
Have a nice weekend! And make sure to warm your outfit with protective clothes.
Source: Google Wikipedia, 
댓글목록
There are no registered comments.