Social
An Afternoon Exploring Chuncheon
페이지 정보

작성자
Dana Picazo
댓글
0 Comments
조회
3,492 Views
작성일

21-09-04 17:55
본문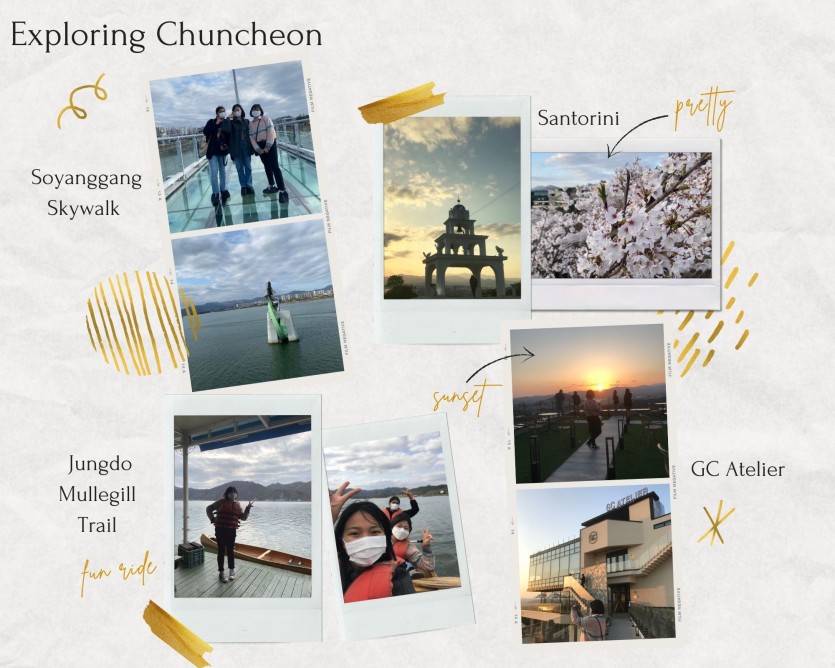 It was a cool spring Sunday afternoon in April when my friends visited me in Chuncheon. It had just been over a month since I moved from Seoul to Chuncheon then, so that was also a pleasant chance for me to spend one full afternoon exploring the charming city. 
As soon as my friends arrived at Chuncheon Station, we looked for a place nearby to eat Chuncheon's famous Dakgalbi, one of our favorite spicy Korean dishes. Our delicious and hearty meal powered us throughout the whole afternoon. 
We started off at Chuncheon Jungdo Mullegill Trail where we had an exciting yet relaxing canoe ride. It was the first time for all of us to go canoeing but we didn't worry at all because there were guides around who gladly helped us maneuver. The waters were calm, and the view was breathtaking! 
Next, we headed off to Soyanggang Skywalk to enjoy the view of the Soyang River. Visitors walk along transparent glass floor, reaching the end of the skywalk which is an observatory and a perfect spot to take photos. From there you can view the landmarks of Chuncheon - one is a statue / fountain shaped as a fish, the Soyanggang Maiden Statue and the Soyang I(2)Gyo Bridge. A lot of families and friends come to this spot during weekends. 
To witness the overlooking view of Chuncheon, we then visited two cafes at Gobongsan – Santorini and GC Atelier. Santorini, as its name suggests, has a Greek inspired interior. Its main point was a bell tower in its garden which will really make you feel like you're in Greece. Since it was spring then, we were also greeted by beautiful cherry blossoms! And oh, while you're there treat yourself with a cup of gelato!
Last stop, GC Atelier, which is just a short walk away from Santorini. We went up to the café's roof deck and marveled at the colors of the sunset. After snapping photos and just quietly waiting for the sun to finally set, we headed back down to enjoy each other's company over coffee and great pastries. What a way to close a perfect #힐링 (#healing) Sunday!
댓글목록
There are no registered comments.