Food & Drink
Seoul-spotted: Cuisines from Around the World
페이지 정보

작성자
Dana
댓글
0 Comments
조회
1,995 Views
작성일

22-05-16 21:14
본문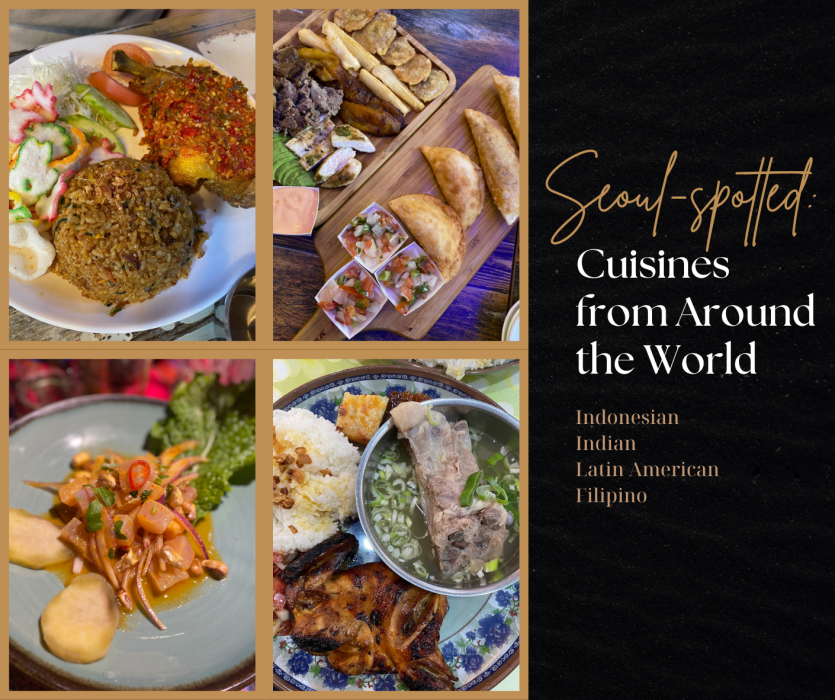 One of the best things about studying in Korea is that you also get to make friends with other foreigners. When I took Korean language classes, we were a mix of at least 8 to 10 nationalities in one class every semester and in my MA classes, we are all foreign students as well! Because of that, I was able to know a little about interesting parts of their culture – which of course involves food! When we are away from our country, we most certainly miss our favorite dishes from home, so, I always ask my friends if they know of a restaurant in Seoul that serves their food. I'm lucky that a few of my friends have taken me to some of their favorite restaurants. It's comforting how these places can take us back home, even just for a while. Here are a few of the places I've been to: 
Indonesian: Bakso Bejo Korea (Myeongdong)
-       Tried two dishes here – Nasi Goreng and Bakso. Nasi Goreng is an Indonesian version of fried rice, popularly paired with chicken (ayam). As a Filipino who loves eating rice, I was really satisfied with this dish! As for my Indonesian friends, they like adding the chili sauce called sambal to their chicken and wow…that was really spicy! Glad I got to try it! To balance the heat of the sambal, we also got Bakso, which is a hearty meatball soup dish. Loved the Bakso since it reminded me of a similar dish back in the Philippines! I would go back here again to also buy some Indonesian snacks!
Indian: Jyoti Restaurant (Sinchon)
-       There are already a lot of Indian restaurants around Korea, but this is particularly one that we frequent. Here, we usually get the Thali set for one person. This already includes salad, Chicken Tandoori (chicken marinated with flavorful spices), rice, Nan, Alu Jira (vegetable dish), and Chicken Butter Masala. I love how creamy the Masala is and I would crave it once in a while too. Lastly, we never miss getting Lassi – a popular Indian yogurt drink! It's very refreshing and a perfect drink to pair with flavorful Indian dishes.
Latin American: Casa Latina (Hongdae) and Lima (Hongdae)
-       Casa Latina showcases dishes from various South American countries. I'm not very familiar with which dishes originate from which particular country but whenever my Paraguayan friend brings me here, we'd always have the Empanada Set. It includes Beef, Ham & Cheese (my favorite!), Chicken, and 4 Cheese Empanadas. I've also had their meat platter and recently, I got to taste Chicken Bandera, a dish that is served with different kinds of beans, rice, and chicken. I've always enjoyed eating lentils and so I'd really go back for this one! P.S. Try the soda called Guaraná! P.P.S This place is located on a rooftop so the view is great!
-       Lima is a Peruvian restaurant, conveniently named after Perú's capital city. Ceviche Clasico - that's what you must order when you visit this place! It's a raw fish dish marinated with Tiger's Milk, a Peruvian term for a citrus-based marinade, usually with lime, sliced onions, and chiles. The Philippines actually has a very similar dish called, Kinilaw. So, as soon as I took a bite of the ceviche, it instantly felt like home! Another must-try is the Anticucho, which is beef heart skewers marinated with Aji Panca (Peruvian chili paste). Enjoyed the food here as well as the constant celebratory and friendly ambiance of this place.
Bonus!
Philippines: Jovy's Grill (Seongbukgu) and Lillie Inasal (Itaewon)
-       Jovy's Grill and Lillie Inasal are where we, Filipinos, usually take our friends who want to try out our cuisine. Jovy's Grill's most popular dishes are the Crispy Pata (deep fried pig trotters), and Sisig, a dish usually composed of minced pork and chopped onions. Lillie Inasal, on the other hand, offers a set menu of Chicken Inasal (grilled chicken marinated with a mixture of citrus, pepper, coconut vinegar, and annatto spice), garlic rice, beef broth soup, and rice cake desserts. They also sell other Filipino foodstuff and products at their store.
Do you also like trying our cuisine from different nations? Hope that you and your friends get to visit these restaurants as well!
댓글목록
There are no registered comments.