Social
My Summer Trip to Jeju
페이지 정보

작성자
Dana
댓글
0 Comments
조회
2,171 Views
작성일

22-05-28 08:52
본문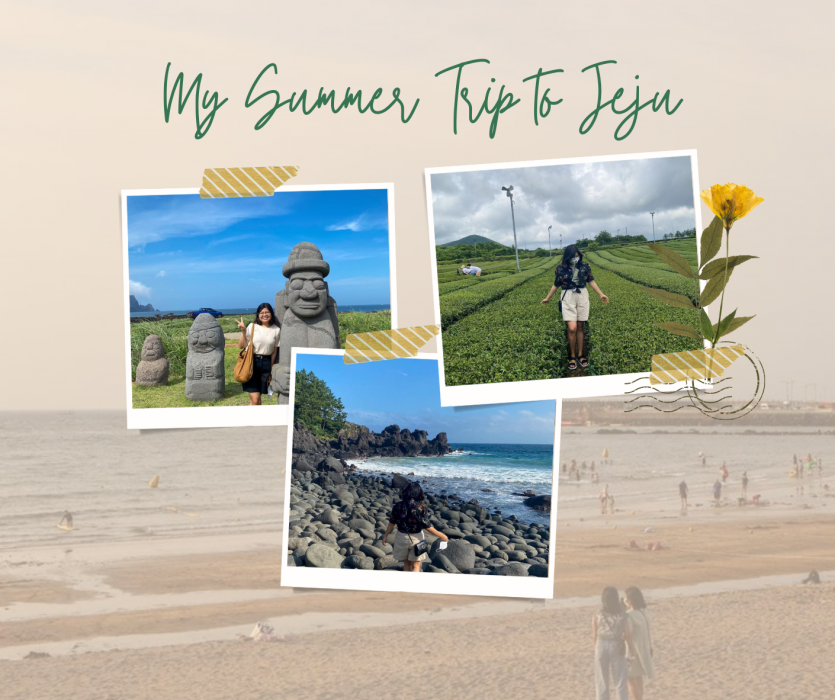 Summer is here and that means it's time to head to Jeju Island! It is Korea's largest island and is one of the most loved summer destinations, both for locals and tourists. Its visitors are welcomed by beautiful beaches, rich natural scenery, a homey countryside feel, and lots of good food too! I visited Jeju with my friends during the summer of last year. It was indeed such a memorable trip. Here are a few places we visited:
Innisfree House
Back in the Philippines, I've had the opportunity to have innisfree as one of my clients at work. I got to familiarize myself with a lot of their products and how their ingredients were sourced from Jeju. So since then, I have always been curious about their Innisfree House. I was so happy when I finally got to see the green tea field that I would just see in photos! We also had a nice time having drinks and cute desserts at their café.
Seongsan Ilchulbong
This is a must-visit in Jeju! Seongsan Ilchulbong (Sunrise Peak) is a UNESCO World Heritage Site. It is a tuff cone crater that was formed around 5,000 years ago. The short hike to the top of the crater was worth it because of the scenic view of the eastern side Jeju Island! I've read that it is best to go here to watch the sunrise – something that is popular among Koreans during the New Year!
Jusangjeolli Hexagon Lava Cliff
         I was honestly so amazed when I saw this place! The way that the rock formations were perfectly hexagonal was unbelievable – like a work of art! The stone pillars were formed because of an eruption of Hallasan between 250,000 to 140,000 years ago. I remember just taking my time and enjoying the view from the observatory and strolling along the park where visitors can see the pillars from different angles. 
Hyeopjae Beach
         Of course, you should not miss visiting a beach while in Jeju! If you want to see a stretch of white sand shores, head to Hyeopjae Beach. It reminded me a lot of the beaches back home in the Philippines so I felt really excited to even just dip my toes in its clear waters. When we went there, there were still some COVID-19 restrictions so there weren't as many people swimming. After strolling around the beach, we headed to a nearby café to enjoy the view of the ocean.
What are your favorite spots in Jeju? Next time I visit, I'd love to go to the Manjanggul Cave and also take my time exploring Hallasan National Park!
댓글목록
There are no registered comments.