Food & Drink
Chuncheon Cafés
페이지 정보

작성자
Dana
댓글
0 Comments
조회
1,419 Views
작성일

22-06-06 10:51
본문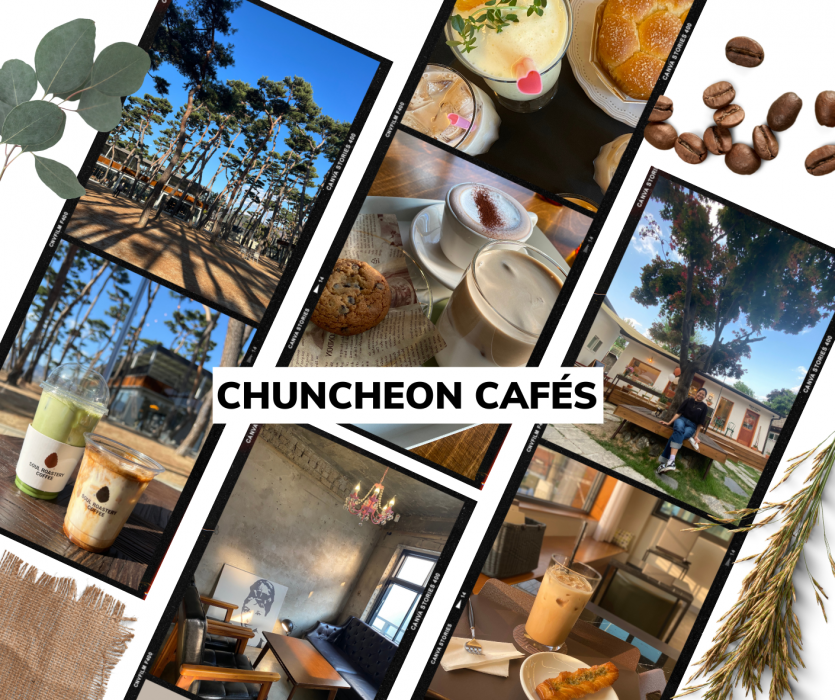 Ever since I came to Korea, I have always found myself spending a lot of time at cafes. I like searching for good and unique cafes around the neighborhood and when I finally find ones that I want to try, I go there with my friends or go alone to study. I'm glad that Chuncheon has many great cafes - ones with a cozy atmosphere, ones with beautiful sceneries, and of course, ones that have good coffee. Here are a few of my favorites, most of which are located just around Hallym University.
Gracia Coffee Roasters (그라시아 커피로스터스) – My friends and I consider this our go-to café. We usually get their Cream Mocha for our drink, while for dessert, we love their Basque Cheesecake.  The café's rustic, industrial design makes it quite mysterious. But when you go and stay inside, it's surprisingly cozy! My friends and I go here to have group studies. We can concentrate here because there's a separate section for groups of 4-5 people. And oh! They play good music too! :)
Origin (오리진) - This is another cafe around Hallym University that we discovered by chance. The cafe that we were supposed to go to was closed and they recommended that we visit the newly opened cafe nearby. The entrance was very unassuming but then a beautiful garden welcomes you and you'll instantly fall in love with this place. It has a very open layout, perfect for summer. Here, we enjoyed their juice drinks and desserts.
Cornerstone (코너스톤) - I go to this cafe for their pastries! Their selection is wide, and they serve good buttery croissants! I find myself very productive whenever I go. The second floor, which is the main dining area resembles a lot like a home and so the atmosphere makes me feel relaxed. The owner is also friendly and nice, that's why I keep coming back!
Now, further away from school…
Soul Roastery (소울로스터리) - This place is perfect for weekends with family and friends. It features a wide lot filled with towering pine trees and so it looks a lot like a camping site! Around the space, there were around 4 separate dining areas that can accommodate a lot of customers. There were also outdoor seats. Their best seller is their Corn Coffee. Something that I would definitely go back for again and again!
What are your favorite cafes in Chuncheon?
댓글목록
There are no registered comments.