본문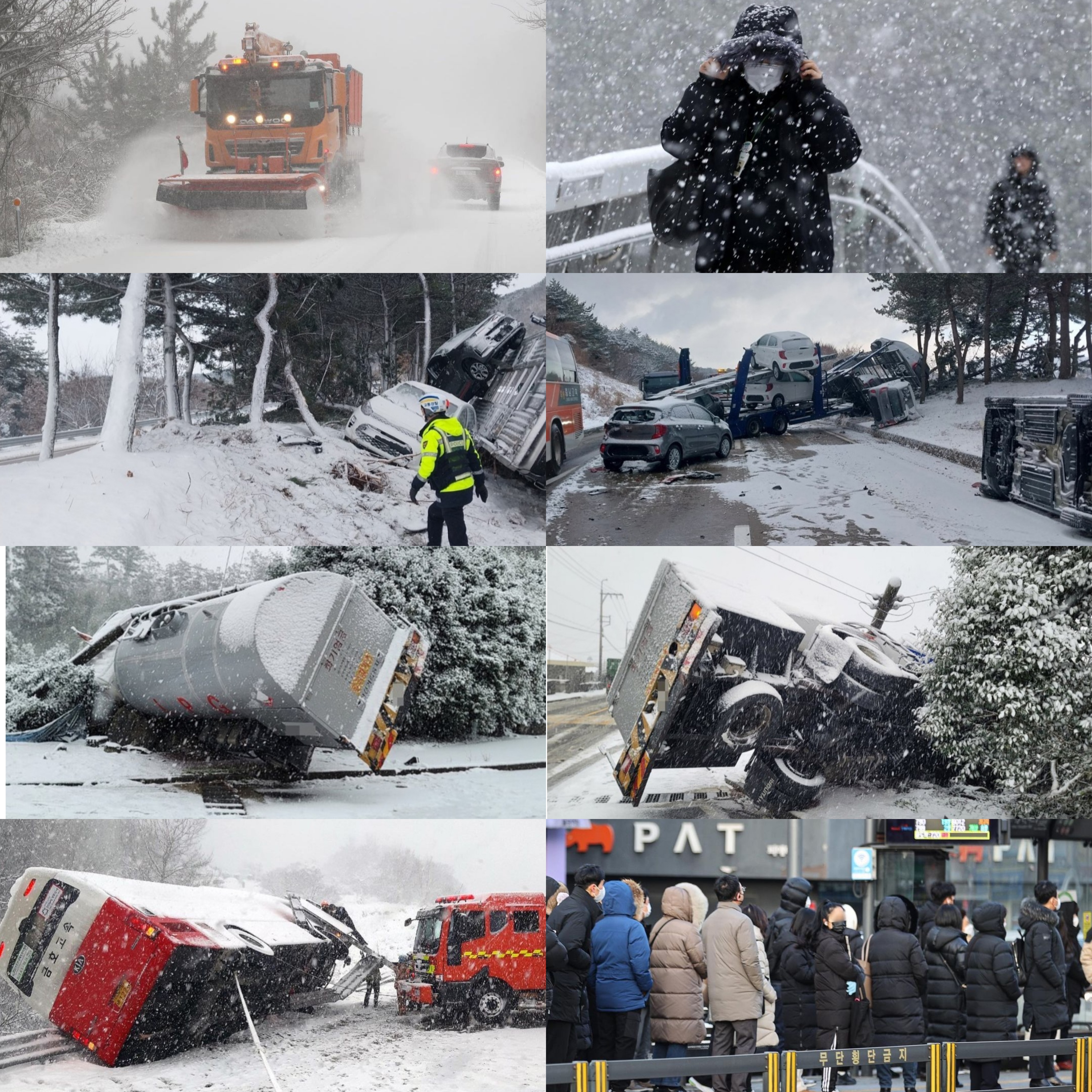 Is the slipperiness of the surface caused by snow or fogginess and the…
Is the slipperiness of the surface caused by snow or fogginess and the low-level sight caused by snow a factor in the vehicle's fall accident or both factors in the fall accident?
Hello Everyone!
As the winter season gets colder,  both in temperature and snowdrop, these days we are hearing news of vehicle accidents across Korea. We are also hearing news of flight cancellations due to the heavy weather and snowfall.
As seen from the picture, fall accidents due to heavy snowfall are causing distractions. Some of the visible fall accidents are around Chungcheong, Honam, Jeju, and Gwangju. The heavy snowfall actually can be the reason for the blurred vision of people's movement on roadways and a reason for making the surface slippery. I myself these days encounter an attempt to fall down on the slippery surface almost every day, to be honest. Thus the dire effect is sourced from the heavy snowfall either in the metro such as Seoul or anyplace where there is human movement and snowfall on the surface. 
Since the upcoming days are when Christmas holidays and eve parties take place, serious care should be employed by both individuals who drive, and walk crowded to various destinations in Korea. 
Thus it should be given due care while traveling using private vehicles or public transport. That is by avoiding driving on spacious and flooded with-heavy snowfall routes and avoiding non-essential travel. The most important one is by driving at low speed so as to smoothly pass the difficult roads by snow. By doing so, the probability of negative outcomes and the rate of distraction can be minimized.
How do you prepare for a heavy snowfall? CDC suggests the below recommendations:
It is recommended to create an emergency car kit consisting of the following: a portable charger, and extra batteries, Items to stay warm such as extra hats, coats, mittens, and blankets, a windshield scraper, a shovel, Battery-powered radio with extra batteries and booster cables with a fully charged battery or jumper cables, flashlight with extra batteries, water, and snack food, Hazard or other reflectors, bright colored flag or help signs, emergency distress flag, and/or emergency flares and road maps.
I wish you all a safe and happy Christmas!  Stay safe!
Photo and information source: The Korean Times and https://www.cdc.gov/disasters/winter/beforestorm/preparehome.html
Recorded by Merhawi
24-12-2022
Script
Is the slipperiness of the surface caused by snow or fogginess and the low-level sight caused by snow a factor in the vehicle's fall accident or both factors in the fall accident? Hello Everyone! As the winter season gets colder, both in temperature and snowdrop, these days we are hearing news of vehicle accidents across Korea. We are also hearing news of flight cancellations due to the heavy weather and snowfall. As seen from the picture, fall accidents due to heavy snowfall are causing distractions. Some of the visible fall accidents are around Chungcheong, Honam, Jeju, and Gwangju. The heavy snowfall actually can be the reason for the blurred vision of people's movement on roadways and a reason for making the surface slippery. I myself these days encounter an attempt to fall down on the slippery surface almost every day, to be honest. Thus the dire effect is sourced from the heavy snowfall either in the metro such as Seoul or anyplace where there is human movement and snowfall on the surface. Since the upcoming days are when Christmas holidays and eve parties take place, serious care should be employed by both individuals who drive, and walk crowded to various destinations in Korea. Thus it should be given due care while traveling using private vehicles or public transport. That is by avoiding driving on spacious and flooded with-heavy snowfall routes and avoiding non-essential travel. The most important one is by driving at low speed so as to smoothly pass the difficult roads by snow. By doing so, the probability of negative outcomes and the rate of distraction can be minimized. How do you prepare for a heavy snowfall? CDC suggests the below recommendations: It is recommended to create an emergency car kit consisting of the following: a portable charger, and extra batteries, Items to stay warm such as extra hats, coats, mittens, and blankets, a windshield scraper, a shovel, Battery-powered radio with extra batteries and booster cables with a fully charged battery or jumper cables, flashlight with extra batteries, water, and snack food, Hazard or other reflectors, bright colored flag or help signs, emergency distress flag, and/or emergency flares and road maps. I wish you all a safe and happy Christmas! Stay safe! Photo and information source: The Korean Times and https://www.cdc.gov/disasters/winter/beforestorm/preparehome.html